Name: Owen Nolan
Position: Right Wing
Shoots: Right
Height: 6-1
Weight: 215
Born: 2/12/72 in Belfast, Ireland
Drafted: 1st, 1st round in 1990
Number: 11
Salary: $2.8 million
Nickname: "The Polar Bear"
Favorite Hockey Memory: Being drafted 1st overall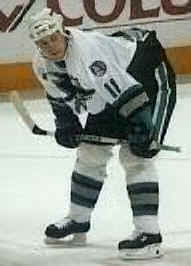 Scouting Report:
The Finesse Game
Nobody knows where Nolan's shot is headed, except Nolan. A pure shooter with good hands, he rips one-timers from the circle with deadly speed and accuracy. His game suffers when he tries to get too fancy and ventures away from a meat-and-potatoes game. When that happens, he holds onto the puck too long and tries to make plays instead of shooting. Nolan has an amazing knack for letting the puck go at just the right moment. He has a little move in tight to the goal with a forehand to backhand, and around the net he is about as good as anyone in the game. Nolan is a strong skater with good balance and fair agility. He is quick straight ahead but won't split the defense when carrying the puck. He's better without the puck, driving into open ice for the pass and quick shot. Defensively, he has improved tremendously. Don't let his poor plus-minus deceive you. The Sharks were a terrible defensive team last season. Nolan played on a hugely impressive line with Jeff Friesen and rookie Patrick Marleau late in the season, which could be a big line for San Jose this year.
The Physical Game
Nolan needs to use his body to be effective, but has been beset by nagging injuries. For a time, he needed injections in his hands to keep going, and played through a great deal of pain. His chronic shoulder injury keeps him from getting involved.
The Intangibles
Nolan is maturing into a leader and sees prime ice time for the Sharks. His injuries seem to be the key reason why he is not as prolific a goal scorer as he has been in the past.
Projection
Nolan still has a big season in him. With Gary Suter joining the Sharks' power play, he could nail close to 30 goals, providing he stays healthy.
SOURCE: HOCKEY SCOUTING REPORT